Update: I've posted an update on the events that surrounded this article.
If you're a blogger and you haven't heard of Digg.com before this post, then where have you been?
Digg.com was one of the social networking/blogging successes of 2006, but recently, the once sparkling star has begun to dim. People have started to question the efficiency of its voting system; a system that lets a small minority i.e. 'The Digg Mafia' decide what makes it onto the homepage or not; something that a wider user base should do.
The Digg Mafia, who in Digg's early months ensured its success by posting hundreds of interesting links, could now be the main obstacle in the way of Digg moving on and Kevin Rose being able to sell and cash in on Digg's 'success' (if he plans to). This community, even at the best of times, doesn't compose of very nice fellows. If they see anything they don't like, rather than being constructive in their criticism they go completely beyond the realms of reason.
Two recent examples spring to my mind. First was the hacking of the SuperGu website because it was accused of being a digg clone; and second the defacement of a new Yahoo site just because it included some voting buttons, which in the minds of Digg users were invented by Digg, just like the internet was……
In my opinion, mass hysteria like this is why Digg users in the long-run will cost Kevin Rose millions (if not more), as they will limit the number of companies interested in buying Digg. Many large family-safe companies would not want to be associated with a group of users, who despite being small in number, punch above their weight online. Imagine for instance if Digg were purchased by Google. It would have been a PR disaster if Google users had been the ones defacing and flaming a Yahoo site.
Looking at Digg's recent traffic levels it appears as thought the honeymoon may be coming to an end anyway.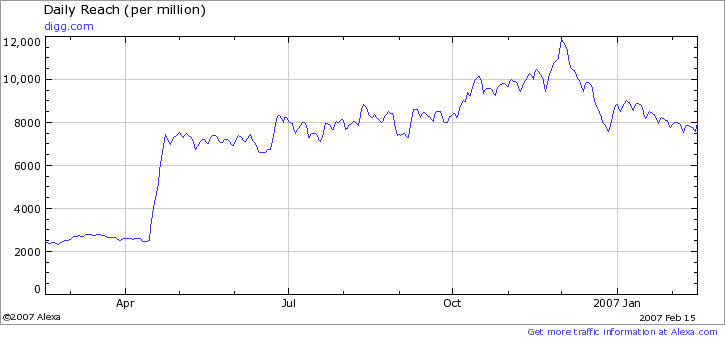 Over the last 3 months Digg's traffic has fallen by 30% from the peak in December 2006.
While the traffic today is same as what it had in late-April when it saw a phenomenal jump in traffic, what strikes sharply is that the traffic has been steadily falling. Even Compete SnapShot backs Alexa's data.
My belief is that Digg is pretty close to reaching saturation of its potential market, and the actions of the Digg Mafia are making it hard for Digg to attract new active users. In fact, the Digg mafia are probably driving existing users away. Even the introduction of new categories seems to have failed due to few submissions being made to these categories and also because the Digg mafia tend to bury these stories.
And consistent burial has resulted in numerous popular sites being banned. Some names include JohnChow.com, PaulStamatiou.com, Connected Internet, Tech Buzz and CyberNet News. If you are looking for a more complete list then refer to the one on Mu Life
So what is Kevin Rose to do?
Well, unless a miracle happens and a big company is brave enough to purchase Digg, then he's going to just have to do as much as he can with what he's got now i.e. find a way to hold users on the Digg site for longer rather than continuing to develop a strategy that is based on readers leaving a site to read interesting content.
He definitely needs to do this fast before the Digg Mafia drive away all the normal users.
I'm surprised that this post has been dugg. Thanks Brajeshwar.
If you agree with my views please do digg it. If you don't tell me why…
Update: And the Mafia strike again… well I didn't expect to get dugg, but when that happened I was sure it would be buried… they haven't disappointed me.