Why CIOs Prefer Cloud Computing

Cloud computing is gradually becoming the most favorite child of CIOs and IT pros and as it is graduating from testing level to commercial uses many prefer to have a virtualized environment in the organizations. In a survey conducted by TechTarget during the 3rd quarter of the last year on increasing cloud interest, 61% of the respondents have agreed that they use cloud computing of some forms or the other in their organizations.
The demand for all three IaaS, SaaS and PaaS cloud services are on a rise. The adoption rate is higher for small enterprises because of moderate availability of fund and IT resources. They more readily look for alternative and unconventional options for their IT issues. When asked on preferences between public, private and hybrid cloud the respondents were more evenly distributed with 40% favoring public, 30% using private and the remaining 30% using hybrid cloud computing models.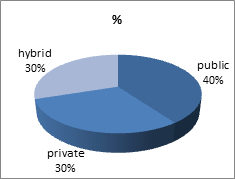 Source TechTarget survey
The growing interest in cloud is a combination of multiple factors. Almost 80% of the cloud adoption is driven by the demand for improved efficiency. CIOs have cited reasons such as compliance, better values and competitive advantages for adopting cloud based services.
Reasons for favoring cloud
Lower cost: Companies that are struggling with inflating IT infrastructure costs have found solace in adopting cloud. In cloud managed service model the hardware and infrastructure are often provided and managed by the service provider. Software available through software-as-a-service model has also eliminated licensing requirements and has further lowered costs on renewing, updating and managing the outdated legacy software. The easy 'pay as you use' models has offered better control to the CIOs in managing IT budgets.
Efficiency: Cloud computing promotes efficiency. Benefits like easy provisioning, scalability and flexibility has helped creating a more competitive environment in the organization. You no longer have to plan ahead and make provisions to cater to the growing need of your business. Your cloud capacity can be expanded on-demand or automatically to deal with growing requirements. You can readjust your provisions when the demand is less and therefore, can reduce resource wastage, which was not possible earlier with fixed hardware model.
Accessibility: When a software or data is moved beyond the physical location of the organization and stored in cloud it can be accessed from anywhere and anytime. It has allowed better collaboration between a company and its foreign units. This has further facilitated testing and development works being outsourced.
Companies considering BYOD system are embracing cloud because of its availability and mobility features.
About the Author
Charles Smith is associated with the IT industry for over a decade now. He is a senior consultant with a California based company that offers cloud computing consultation to companies across industries. Charles has vast experience in implementing cloud computing projects and offering consultation to companies in mapping their ways in cloud environment. He has worked long in designing cloud based application development.