Web Based Document Editing Tools
Being a full time blogger I can't imaging doing my work by installing software on my PC. I really enjoy the comfort of free online services when it comes to editing my pictures and documents. Recently I've collected a few document editing tools which will allow you to collaborate on platforms such as Microsoft Word, OpenOffice and HTML.
1. Revizr
Revize is a free browser based document editing tools will lets you edit your documents on Microsoft Word, OpenOffice, HTML or any plain/rich text documents. To get started simply upload the document and start editing it. You can also invite others to edit and suggest changes.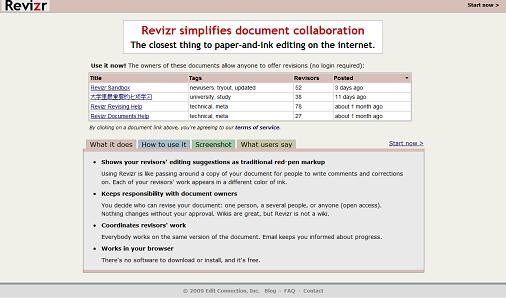 Since you have the power to control these invitations you can accept or reject and suggestions as well. The best of all there's no software to download or install, and it's free.
2.  ShowDocument
Here's another cool websive that allow you to quickly take some colleague of ours through documents online. It offers a great way for you to discuess points and get feedback. Just like Revizr this online live document collaboration service allows you to upload documents and then invite someone to discuss it.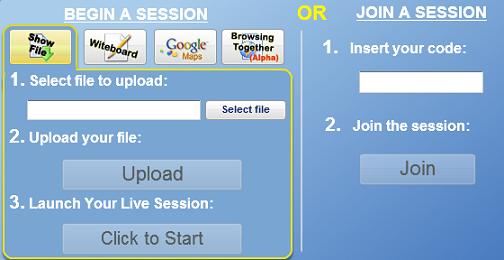 With ShowDocument you can download and save annotated documents as PDF. No signup or registration is required to use this service.
EtherPad is another such website that aims to make it easy to work on documents with colleagues in real-time. To get started just click on "Create new pad" and you will be taken to text editor page. Once there, simply grab the given URL and use it to invite others.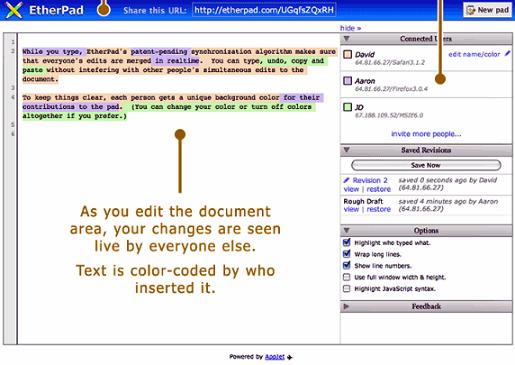 It doesn't require any registrations in order for you to use it. It collaborate on text documents in real time online. It lets you invite colleagues and share documents with them using same sccreen view. It also offers a integrated text chat window so that you can discuss main points of your meetings.