View images and photographs with IrfanView
So, you have a huge collection of photos and other images. You can either view them in Microsoft Picture Viewer or you get better full fledged image viewers.
Or you can get hold of IrfanView.
I have no qualms in admitting that IrfanView is my favorite image viewer. In fact, this is among the first software I install on any system that I work on.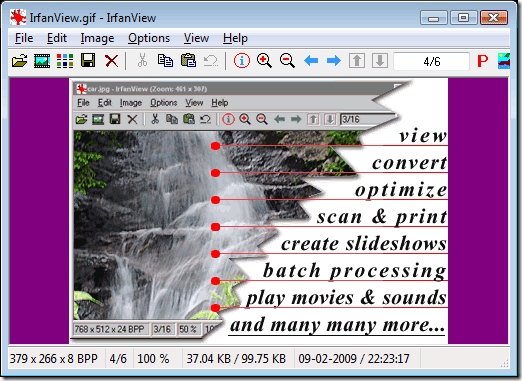 IrfanView is a very fast, small, compact and innovative FREEWARE (for non-commercial use) graphic viewer for Windows 9x/ME/NT/2000/XP/2003/Vista.
The power of IrfanView is simply because of its support for several different file formats, both images and videos. You can view only associated files while browsing through directories or every supported files.
You can quickly switch between full screen or windowed mode while viewing files. You can also view directories as thumbnails, edit pictures (basic features only) as well as crop and covert images either individually or in batches. I use IrfanView whenever I need to resize hundreds of images before uploading them to my Flickr albums.
Full List of Features:
Many supported file formats (click here the list of formats)
Multi language support
Thumbnail/preview option
Paint option – to draw lines, circles, arrows, straighten image etc.
Toolbar skins option
Slideshow (save slideshow as EXE/SCR or burn it to CD)
Show EXIF/IPTC/Comment text in Slideshow/Fullscreen etc.
Support for Adobe Photoshop Filters
Fast directory view (moving through directory)
Batch conversion (with image processing)
Multipage TIF editing
File search
Email option
Multimedia player
Print option
Support for embedded color profiles in JPG/TIF
Change color depth
Scan (batch scan) support
Cut/crop
IPTC editing
Effects (Sharpen, Blur, Adobe 8BF, Filter Factory, Filters Unlimited, etc.)
Capturing
Extract icons from EXE/DLL/ICLs
Lossless JPG rotation
Unicode support
Many hotkeys
Many command line options
Many PlugIns
Only one EXE-File, no DLLs, no Shareware messages like "I Agree" or "Evaluation expired"
No registry changes without user action/permission!
and much much more