Orkut may have started over two years ago, but the last few months have seen a lot of changes. Google's attempt to make Orkut a successful social networking site is indeed paying off.

And now, yet another update has made it possible to add your favorite videos to your Orkut profile. Currently Google Video and YouTube are supported and you need to first upload your video to one of these two places.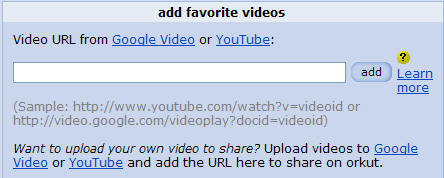 This without doubt is also an attempt in integrating several of Google's services, thus giving viewers a more complete "Googlexperience".
And if you haven't added me to you're Friends list, then this is my profile. Do scrap me before you add me.
And have you joined the Techtites community yet?
(Visited 165 times, 1 visits today)