Use Same Keyboard/Mouse On As Many Computers As You Like
If you are operating multiple computers at your home or office, then you might be shifting a lot from one keyboard-mouse set to another. Since each computer has separate keyboard-mouse sets hooked to it, shifting is a necessity. However through the usage of a brilliant tool name Synergy Plus, you can use the same keyboard-mouse set on as many computers as you like.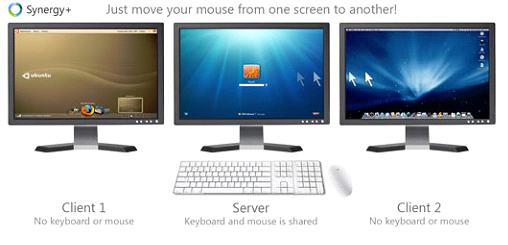 If you have multiple computers running connected via LAN, then Synergy Plus lets you control them all using a single keyboard-mouse set. IT professionals, in particular, will find this to be very helpful as it allows them to shift from one computer to another with ease.
Synergy Plus has different versions for Windows, Mac, and Linux operating systems. The connected computers need not run the same operating system. All they need to have is the corresponding Synergy Plus installed. If you are a Windows user, you will download the setup file sized at roughly 7MB. After installing the program, you need to specify whether or not the computer you are using will be the server i.e. the computer with the keyboard-mouse attached.
You shift your mouse pointer from one screen to another by placing it one side of the monitor for a while. A delay can be set for the shifting to avoid accidental shifting. This delay duration can be specified by the user.
Although unlike KVM or VNC tools, Synergy Plus achieves similar results with greater convenience. With a simple mouse pointer placement, you can shift from one system to another – no buttons need be pressed.
Key features include
Move your mouse easily between computers
Requires nothing other than existing ethernet
Copy and paste between your computers
No need to press any buttons (unlike KVM)
You can still use multiple monitors on the same computer
Lock the mouse to one screen temporarily (useful for games)
Check out Synergy Plus