Google's Picasa is a beautiful software and has complete integration with Picasa Web Albums. On the other hand, finding a good tool for Flickr has been a real pain. I have a pro account at Flickr and I love the service and prefer it anytime to Picasa Web. I have even integrated Flickr into my WordPress blog.
I used jUploadr for a long time to upload photos to Flickr until a few months back when I came across Flickr's very own Flickr Uploadr.
Yesterday the new version 3.1.3 was released from beta for the general public.
Flickr Uploadr is a powerful tool that allows you to upload photos in bulk. You can choose to either drag and drop single photos or videos, or select a whole folder and then reorder how photos will be displayed in your photostream.
You can then go on and set titles, descriptions, tags and other parameters for individual photos or for all the photos, create sets and add photos to one or more sets and upload these to your Flickr account.
All this (except the upload) can be completed offline. So, if you're running a time metered internet connection, then you only need to connect when you are ready to upload.
After uploading the photos you can optionally go to Flickr and add more tags, descriptions or organize the photos.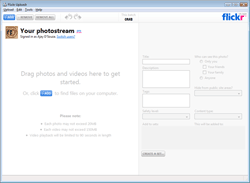 For first use, you will need to add a user and give the tool write permission to your Flickr Account. Simply, navigate to Tools > Preferences to add one or more users and then switch users at the click of a button.
What tool are you using to upload your photos to Flickr? If you're not in Flickr, then what service are you using for hosting your photos?
Download Flickr Uploader from the links below or view the FAQ.
-Â Windows Vista & XP: Download (14.69MB)
-Â Mac OS X 10.5 & 10.4: Download (24.38MB)
– All languages and discussion forum