Twitter tip: Reduce the number of people you follow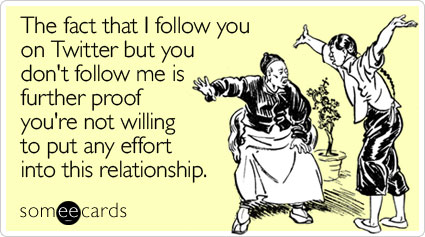 Was the first thing that ran through your mind when you saw the title: "What if they unfollow me?". They won't, if they like what you're tweeting. But, reducing the number of people you follow might definitely make you more efficient. Here is why.
I joined Twitter on 4 April 2007 when it was just a year old. At that point of time everyone was getting on Twitter, everyone was trying to follow everyone and you had a whole set of tools that automated your followers and the people you followed. Little doubt that within a very short time I ended up following over 500 people. By following, I mean my twitter account followed them, not me. I also ended up having over 800 followers which today stands at little over 900.
After the initial frenzy of using twitter died down, I ended up using it a lot less than I used to and even went days, if not weeks or months without logging in or even actively reading any tweets. And when I did login, the sheer amount of noise just made me close down the browser window.
A few months back I decided that I'm going to give Twitter a shot again and actually attempt to read tweets especially of people in the WordPress world. The first step to this process was to start unfollowing people. I'm happy to say I reduce the number of people I follow from 500+ to below 100 (-75 in the last one day). Now, I'm able to keep track of the conversations on twitter, increase my interactions and I have even gained a few followers.
It has definitely reduced the noise in my Twitter feed and more importantly, leaves the door open for me to follow more people now who I really want to without getting overwhelmed with tweets.
Have you ever gone into a mass unfollow mode like me? Has it helped? Tell me about it below or just tweet me @Techtites or @ajaydsouza.