Track your Visitors from iPhone and iPod
Google introduced Analytics for Mobile Phones a few weeks back. Using Google Analytics Advanced Segmentation feature you can now track your visitors from iPhone and iPod touch as well. To enable this feature, simply click on the drop down menu next to "Advanced Segments" and select "Visits from iPhones". It will be a good idea to turn off "All Visits" while viewing your iPhone segments because it will be difficult to visualize the 2 sets on numbers on the same graph.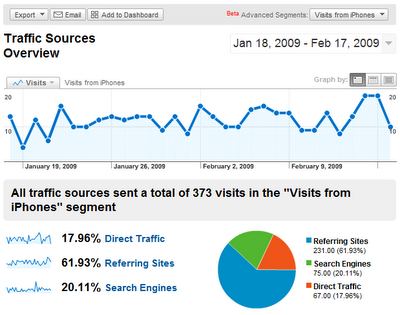 To create a new segment for iPhone and Android. click on "Create a new advanced segment" and create a segment with two criteria. Drag "Operating System" under the "Systems" dimension into the target area with the dotted-line border, and type "iPhone" into the "Value" field. Click "Add 'or' statement" to get a second target area, and do the same for Android. Then, you can name your segment "High-end mobile" and see that traffic in Analytics.
Like any Advanced Segment, all of Google Analytics' reports are available. It also includes AdWords performance as well. If you use AdWords, you can now use Analytics to better analyze the performance of any campaigns that you use with the new iPhone and high-end mobile targeting feature.