My extensive development and maintenance work requires me to work with a lot of code. The worst part of maintenance is keeping track of what changes have taken place. Most of the time I don't need to worry about the software I am upgrading.
However, I need to worry about the same whenever I have modified the original files.
Whenever, this situation arises, I resort to comparing these files. Doing so manually is simply not recommended. You'll spoil your eyes and just go crazy at the end of it.
Hence, you need to go in for a specialized tool that will visually compare the same. The one I use is ExamDiff
ExamDiff is a freeware Windows 95/98/Me/NT/2000/XP/2003/Vista tool for visual file comparison. It has a number of simple and convenient features that many users have been asking for a long time from a file comparison tool.
Currently at version 1.7, ExamDiff will run through both the files and highlight the lines that have been changed. It will point on lines added, deleted and modified. You can browse through the differences using the drop down box at the top.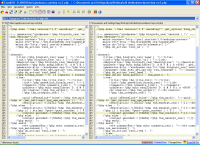 It also allows you to scroll both files simultaneously, hence ensuring you're going through them at the same time. Though it doesn't have an inbuilt editor, it can launch any editor of your choice to make edits to the file.
Besides these two, ExamDiff comes with a huge list of features.
ExamDiff is also available in a Pro version with even more features including directory compare. $35 isn't such a big sum if you're going to utilize all its features.
– ExamDiff 1.7 Installer [~504KB]
– ExamDiff 1.7 ZIP [~224KB]
– Other Download Links
(Visited 121 times, 1 visits today)