Is your wall cabinet overflowing with CDs and DVDs of your favorite movies or music? Are you looking to lend these to friends and would like a detailed list of them.
One simple option is to create an Excel file with the name of the movie. An even better option to get hold of a software that allows you to catalog and manage your collection.
Presenting to you 10 powerful movie and music managers that help you manage movies and music very easily!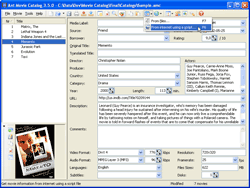 Ant Movie Catalog is a free (really free, i.e. the source code is available) program made to manage your collection of movies on DVD, CD (VideoCD, DivX, …) and tapes. At this inexpensive price you get a software that allows you to download information from IMDB and other popular movie databases, import data like bitrate, codecs etc. from your video file, export your lists to Excel or HTML, print your collection and most importantly manage loaning of your movies to your friends.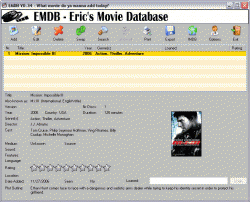 EMDB is a small application to keep track of your DVD collection. Some of the features include automatic import from the database of IMDB, cover preview, a loan tracker, search function and multi-language user interface.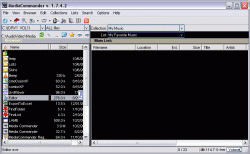 Media Commander is a special media – files manager, that has some great ability due to its lists concept. Media Commander is a tool designed to help you to find and organize music, pictures, video or any other files, to play and show many type of files.
The software has been created especially for huge mp3/wav collection. You can find and remove unnecessary duplicate files, index CD/DVD/HDD, create MP3 playlists, search for files/folders on any drive, even in ZIP, RAR, ACE and other archives type.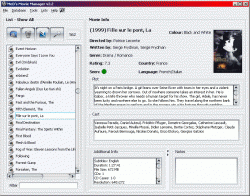 MeD's Movie Manager is a simple to use, yet customizable, movie manager. Info is automatically retrieved from IMDb and tv.com.
It can also retrieve information from media files like AVI, OGM, MPEG and DVD (ifo). The software is written in Java and should therefore run on most desktop systems supporting Java. You'll need Java Runtime Environment installed in order to run MeD's.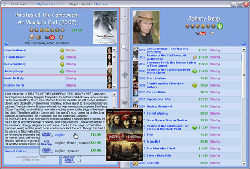 Coollector is a movie manager with a difference. Besides allowing you to maintain your movie collection, Coollector comes inbuilt with a comprehensive movie and TV series database. You track your owned videos, as well as all the movies you've seen, good or bad. Coollector also includes a database of existing videos, with prices updated daily. You can rate the movies and persons. You easily maintain a wish list. You keep track of the videos you own, as well as those you've loaned. And if you're interested in purchasing online you have tools to help you find the best bargains.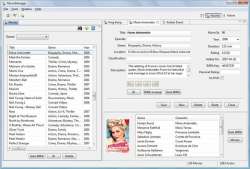 MovieManager is a fully featured, home theater, movie organizer application that scans your drives, locates movies, identifies and catalogues your movies, gets information from the web, stores your movie information and plays your movies using the media players you choose.
You can then generate HTML pages complete with the information stored in MovieManager.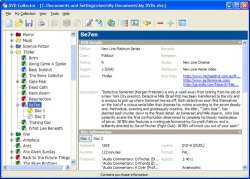 DVD collector is a much simpler software than the ones above. Built solely for the purpose of managing DVDs, DVD Collector allows you to manually enter information about your DVDs or import the same from IMDB. Includes a Loan manager to keep track of who you lend your movies to as well as a multi-currency purchase manager to keep track of what you bought and how much your collection is actually worth!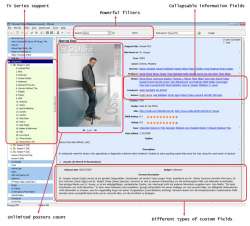 With Personal Video Database you can catalog your movie collection fast and easy. Thought-out user interface and different database management function make it easy to create and manage big movie databases. Powerful filtering, grouping and sorting help you find movies very fast.
The program is expandable with plugins. There are already plenty of plugins included with the installation that can help you retrieve movie information from different internet movie databases or other database formats. Other important features of Personal Video Database include Loan management, full Unicode support and many more.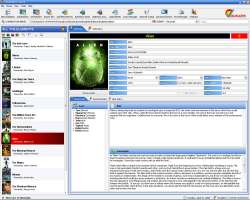 VisualDivX is an extremely powerful, easy to use movie manager. Written in Java, it allows you to catalog movies, TV series and documentaries. Includes support importing information like bit rate, codecs etc. from the video file and importing information like description, pictures, cast and crew etc. from IMDB. Includes complete loan management to keep track of the overflowing DVD collection.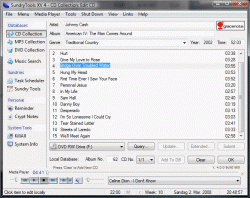 SundryTools is much more than a media organizer. It includes support for cataloging MP3s and CDs with lookup from Gracenote CDDB. It also includes support for taking care of your DVD collection. Added features include ability to organize windows startup, a day planner, process viewer / killer and an inbuilt Notepad as well as a media player.
Have you used any other software to manage your music / movies? Have you used any of the ones above? Let me know your experiences with them. Would you like to recommend a software for review?