I'm a big fan and a two year old user of FeedDemon. However, my feed statistics as well as those of several others I know, show that Google Reader is one of the maximum used online feed reading software.
I, for one, hate the concept of a web based reader. Hence, when I stumbled upon ReadAir [Via: Google Inside], I decided to give it a shot.
ReadAir is an OSX Themed Desktop Client for Mac or Windows built with Adobe Air. You login to you Google Account and it fetches all your feeds.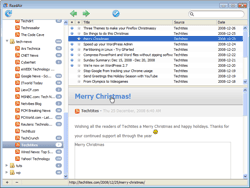 This is still a very experimental version and so there are still several bugs in the software. The buttons still need to be labeled and functionality still needs to be improved.
Now, I wonder why Google doesn't build their own desktop version of Google Reader?