How to stop personalised ads from Microsoft
Advertisement tracking is pretty much a given in today's world. Major networks like Google and Microsoft are serving advertisements on thousands of websites and they attempt to serve you relevant ads based on your browsing experience. But, you can stop the tracking and serving of personalised ads. Here is how you do it with Microsoft.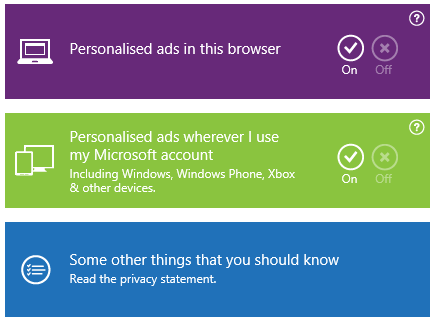 Firstly visit Microsoft Personalised Ad Preferences. Once there you will view a page similar to the screenshot above. You have two level of controls.
The purple section above controls the personalised ads in the browser. As you can see this is currently turned on. Simply hit "Off" to shut down these ads.
The second controls ads on a more global scale when you are signed in on any computer or device with your Microsoft account. If you want Microsoft to show ads that might be relevant to you, click On. To show "generic" ads, click Off.