Speed up your typing tasks with PhraseExpress
If you're regularly blogging, or even just writing, it is important to maximise your speed of typing. Learning touch typing is an important step towards improving productivity.
However, if you're not an expert at touch typing, or would like to speed up still further, then using an autotext software is a very good solution.
PhraseExpress, the Text Expander for Windows, helps you to speed up your typing tasks in any editor by saving lots of keystrokes. It is ideal for people who are continually typing the same things over and over, reducing the time spent typing and minimising spelling mistakes.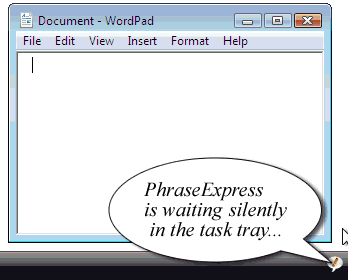 Key features:
Organize frequently used text snippets
Expand abbreviations as you type
Auto-complete repetitive phrases
Quick access to the Windows Clipboard History
Correct spelling mistakes in any application with more than 10,000 spelling corrections in seven languages
Launch programs simply by entering a text shortcut. For example, type 'word' to launch Microsoft Word or 'exc' to open a spreadsheet
View a detailed list of features.
Download Phase Express from FileHippo
Other versions and locations
Standard Stand-Alone Edition free for personal use.