Come this holiday season and it's time for greetings. I've been sending online greetings for years now and YouTube has decided that it's time to join the list of online greeting sites.
Browse to YouTube Greetings, select a video and hit Sent this video as a greeting card.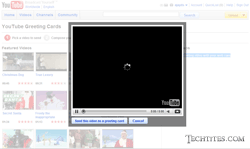 If you have a webcam, you can even choose to record your own video and then send it.
You can then type a greeting and enter a comma separated list of recipients (upto 25).
The question does remain that how many videos are really suitable to be sent? How many will you be sending this year?
Via: Blog Solute