Quick Media Converter (QMC) is a universal video converter that was specifically designed to convert video formats to other video formats.
QMC comes with two modes, viz. easy and expert. Easy is a painless, few click conversion option if you don't want to break your head too much with getting the video conversion done.
Expert mode is for the more powerful users who like to tweak all the options to get the best quality video at the least size.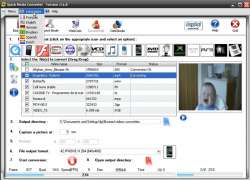 Features:
Extract and Convert Video and Audio files from one format to another
Preview and/or listen to video and audio files
Batch files processing
Drag and Drop support
Capture a movie or picture directly from your webcam or DV Cam
Create tutorials or record videos using CamStudio