I rarely write about or review paid software on this blog. There are several free anti-virus software available on the internet. And many of them do an excellent job. However…
About a year and half back when I picked up my new laptop, the first thing I installed was a free version of AVG. AVG is a really good antivirus, however, I did notice that it was not the most powerful. Was recommended to check out NOD32 by a friend of mine who had purchased some copies of the same for himself and his family.
I had already heard good reviews of the same and so downloaded a trial version of the same. After using it for a few days, I realized that it did manage to detect a few viruses. However, the software did require some configuration. The version then was 2.7 and the current 3.x series come well configured so you don't need to break your head about that.
I haven't bothered to upgrade the same, though I have friends who have purchased the latest release. This post will in detail cover v2.7. 3.0 is very similar but with a better looking interface and faster scanning. The memory usage is a bit more than 2.7, though it is still lower than most other antivirus software.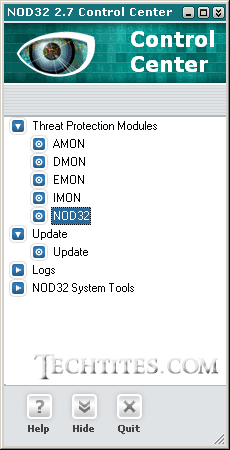 The above screenshot shows the interface of NOD32 v2.7. You can check out a screenshot of v3.0 on FileHippo.com.
NOD32 comes with several different modules. These include a file system monitor that scans for all files as you use them. You also have a scanner for documents opened by MS Office, MS Outlook email as well as an internet scanner that checks websites for malicious content. You also have an on demand scanner, which you can use to scan different parts of your computer.
Features:
Proactive Protection: The award winning ThreatSense technology combines multiple layers of detection protecting you from Internet threats before it is too late.
Precise Detection: ESET accurately identifies known and unknown threats. It consistently wins top awards from testing labs and is recognized for having zero false positives.
Lightweight Design: Requires less memory and CPU power, allowing your computer to run fast, making more room for games, web browsing, and emailing.
Fast Scanning Speeds: Highly efficient program ensuring fast file scanning and product updates. It runs quietly in the background.
You can check out the comparison of NOD32 with other antivirus solutions.
NOD32 antivirus retails for $39.99 for a year and $58.99 for two years (recommended). Renewals are at $27.99 and $49.99 for 1 year and 2 years respectively. You can purchase the software online or from their worldwide vendors.
Download 30 day trial version:
– ESET NOD32 3.0 Antivirus for Win XP/2000/Vista (32-bit)
– ESET NOD32 3.0 Antivirus for Win XP/2000/Vista (64-bit)
– Purchase NOD32
– Download Free Spyware Removal software