Pirates make hay while Microsoft lets the sun shine
A month back we told you how to get hold of Windows 8 Media Center for your Windows 8 PC for free. And it seems like pirates have used this method to find a workaround in the Windows activation program
Using this method, you can now simply activate your copy of Windows 8! Below is screenshot of my Windows 8 Pro with Media Center edition which I purchased last month. As you can see it shows the software as activated.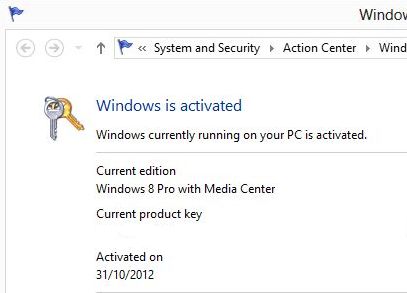 I didn't have to do anything special to activate Windows since I upgraded from within Windows 7. However, if you've purchased a copy of Windows or have been using Windows Key Management Service (KMS) to activate your copy, adding the Windows 8 Media Center automatically activated your Windows 8 version.
KMS is part of Microsoft's program for Volume Licensing which allows big corporations to remotely activate computers on a large scale. However, this is also a method that pirates exploit to create duplicate copies of Windows and other software.
Microsoft is yet to do anything about the patch. I am not sure they want to discontinue the promo. They most likely will release a patch to disable the activation, similar to the Windows Genuine Advantage.
If you're yet to try Windows 8, I strongly urge you getting hold of a genuine copy during the promo period. It's retailing at $39.99 for upgrades which is definitely something affordable.