Periodic Table Quiz (Fun Friday)
This one is for all you Science buffs out there. If you are interested in testing your knowledge of the Periodic Table, you can download the Periodic Table Quiz.
The quiz contains 801 questions designed to test your knowledge of the Periodic Table; the elements and their properties as well as chemistry and chemical processes. Many different styles of question on a variety of different topics. Includes picture questions!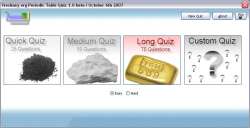 You have the option for a short quick quiz or if you have the time try to give the medium one. And, if you have a lot of time… well, the long quiz is there for your. You can also "create" your own quizzes that you could take.
An expert, choose the Hard mode!
Download: Periodic Table Quiz (1.4MB)