Partitioning in Linux – Try GParted
GParted is the Gnome Partition Editor application.
GParted is an extremely feature rich software.
It supports several different types of file formats through the use of their equivalent support programs. These include ext2, ext3, fat16, fat32, hfs, hfs+, jfs, linux-swap, ntfs, reiser4, reiserfs, ufs and xfs.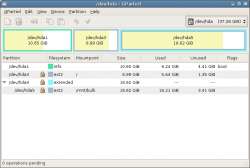 GParted also includes a LiveCD which is available as an ISO or USB, PXE or on your Hard Disk.
– Download GParted
– Download GParted LiveCD