Firstly, let me begin by wishing you and your family a Happy New Year 2009!
Those of you viewing this in a feedreader may not have seen the developments of the site. Over the past two days I've been working on the new theme that will power this blog for a while.
The last two years have seen three themes. I first selected GreyWorld which was a CSS template by Free CSS Templates, which I ported to WordPress and modified for this blog. I used this theme for nearly two years before switching to a highly modified version of Amazing Grace.
This time, I was hit with the choice of either designing the theme from scratch or working with an already existing theme. I decided with the latter and after a good amount of searching I shortlisted two themes, Digital Statement and Statement. The former is too advanced a theme with more features that I really needed. So, I finalized on Statement.
Next began the tedious task of modifying it for this blog. This is the almost finished version. I still have a few things I want to add to the template.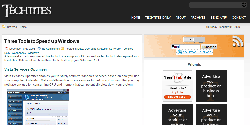 I have finally integrated OIO Publisher. You can purchase 125×125 banner ads in the sidebar. These ads will be displayed on all pages of this blog.
If you find anything out of place do let me know. Thanks.