Oracle SQL Developer (Software Saturday)
Oracle SQL Developer is a free graphical tool that can be used to manage database objects, run SQL commands and execute PLSQL scripts.
The tool can be used by Developers and DBAs alike to run a number of pre-defined and custom built reports. SQL Developer aids database development and maintanence activities.
SQL Developer runs on Windows, Linux and MAC OSX platforms and can connect to Oracle Database versions 9.2.0.1 and above.
The current version, SQL Developer 1.5, provides support for Versioning, Sub-Versioning and Source Control Systems (Concurrent Version Systems).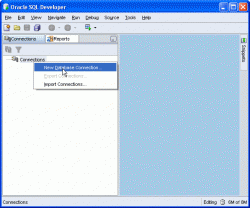 SQL Developer is capable of the following tasks
Create Connections
Browse Objects
Create Objects
Modify Objects
Query and Update Data
Export Data and DDL and Import Data
Schema Copy and Compare
Process Commands
Edit PL/SQL
Run and Debug PL/SQL
Run and Create Reports
Migrate from Third Party Databases
Version Files
Review the Robust IDE
Features such as SQL Formatting, Schema Copy, Compare and Export come handy during development
and maintenance. Migration support for Sybase is another added feature.
Download SQL Developer 1.5