WavePad is a FREE audio editing software with features of several expensive sound editing software.
It lets you make and edit voice and other audio recordings. When editing audio files you can cut, copy and paste and, if required, add effects like echo, amplification and noise reduction among others.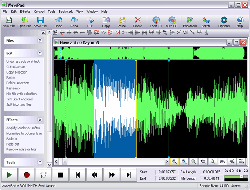 Features
Supports a number of file formats including wav (multiple codecs), mp3, vox, gsm, real audio, au, aif, flac, ogg etc.
Sound editing functions include cut, copy, caste, delete, insert, silence, autotrim and more.
Audio effects include, amplify, normalize, equaliser, envelope, reverb, echo, reverse, sample rate conversion and more.
Tools include spectral analysis (FFT) and speech synthesis.
Audio restoration features including noise reduction and click pop removal.
Supports sample rates from 6000 to 96000Hz, stereo or mono, 8, 16, 24 or 32 bits.
Ability to work with multiple files at the same time in seperate screens.
Includes its own CD ripper with 'ultrafast 'rip mode and cddb music database lookup.
Recorder supports autotrim and voice activated recording.
Easy to use interface will get you started running.
I use WavePad for almost all my audio editing. You need to download extra codecs if you want to save in any other format and WavePad will prompt you to do this the first time you try to save in that format.
Are you using any other audio editing software? Is it free or paid? Give me your inputs.
(Visited 232 times, 1 visits today)