Multimedia Monday: MediaCoder
MediaCoder is a FREE universal audio/video batch transcoder distributed under GPL license, which puts together lots of excellent audio/video codecs and tools from the open source community into an all-in-one solution, capable of transcoding among different audio/video formats.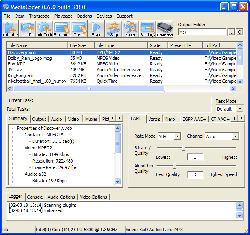 The best feature of MediaCoder is the ability to transcode files in batch format. If you're looking to load your music player and you have all your files in different formats, then you can use MediaCoder to convert them all into the format supported by your player.
The site mentions four typical applications:
Improving compression / reducing file size
Converting for audio/video portable devices (digital audio player, MP4 player, mobile phone, PDA, PSP, VCD/DVD player etc.)
Extracting audio tracks from video files
Ripping audio/video discs
And the best part about this is that the software is Open Souce, which means your free to use it for as long as you need. Which makes a lot of highly expensive commercial software redundant.