MetaClock: An Excellent Combination of Online Alarm Clock/Reminder
While surfing the web for free web-based alarm clocks I came across Metalock. Unlike many other web based alarm services, MetaClock offers a lot more functions than just a wakeup call. It can also be used as a "To-do-List" manager because it has the ability to let it's users set notes which will remind them of tasks to do when the alarm is triggered.
Metalock is a free online alarm clock which does not need any registration, any installation, any hassles.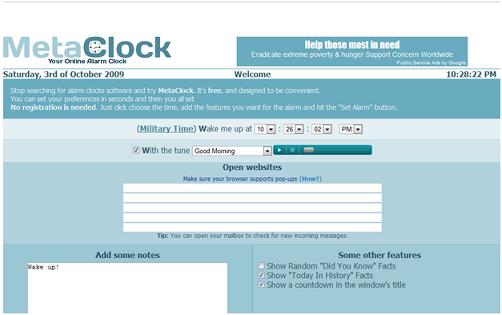 As is clear from the screenshot of Metalock's homepage pasted above, the settings are very easy to configure. MetaClock gives you the power to easily customize the time setting and choose your desired alarm tone from a list of available tunes. The alarm can be stopped easily by simply hitting any key from the keyboard. All that is needed is to set the time and click the 'Set Alarm' .
You can also set some URL's to open when the alarm goes off. Let's say you're a Facebook addict and the first thing you do after waking up is not wash your face, but check you Wall. By adding Facebook into the URL's on Metalock, you can wake up to your Wall every time.
You can also choose from a list of songs to play when the alarm goes off.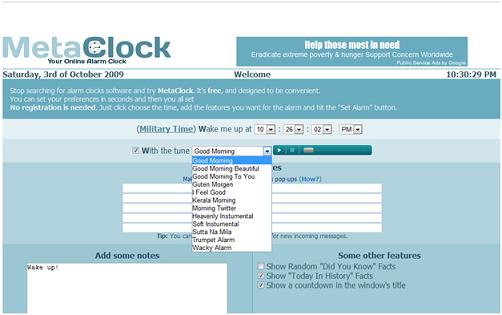 Although not a lot of options are available for the tune that wakes you up, one can't ask much for a free service which doesn't even require installation.
Key features include
Free of charge
No registration or sign ups required
Easily Set Prefrences
Open websites and show some notes when the alarms turns on
Metalock does exactly what it claims and never fails. This is a service deserving two thumbs up.