Manage your Gmail online and offline with Postbox
Anybody who uses Gmail on a slow internet connection knows that it is one of the worst painful experiences you can ever have. Gmail keeps telling you that the page isn't loaded properly and well you're only option is switching to the "Older Version" or to the HTML version.
So, when I came across Postbox about a few weeks back, I decided to give it a shot to see if it eases the pain. And, I wouldn't be writing this review if it didn't!
So what is Postbox?
A new kind of messaging application, the Postboxâ"¢ email client helps you spend less time managing email and more time using email to get things done. Postbox automatically analyzes your e-mail messages, documents, photos, and links to web pages; then it catalogs all this information making it faster to search for and retrieve.
Easy-to-use tagging features let you organize messages the way you want and then focus on one project at a time without missing out on important new messages. You can also gather messages by conversation, annotate messages and create to-do items that appear in mailbox windows.
Features
Powerful Search: This is the main power of Postbox. After you configure your accounts, you can search for emails across all of these accounts through simple search filters and more power advanced search settings. A contacts panel and Inspector pane make viewing contact information and finding attachments and links extremely easy
Message Viewing: This is the reason I switched to Postbox. It supports multiple tabs for multiple emails / inboxes. Folder views are preserved. Powerful drag and drop support even across different email accounts is possible! And, my favorite… conversation view which similar to what Gmail has to offer, groups all your emails with the same subject line together for easy viewing.
Organization: This is one less used feature for me, but you can group messages by topic and tags. However, I prefer using Gmail's Labels (which are mapped here as folders) for organizing my email. And, I have folders for my Yahoo! Plus account. You can also quickly choose to archive or annotate messages.
To-Dos: One additional feature is the ability to create To-dos and reminders. I haven't used this much, because I just use Notes gadget of Windows Sidebar for this purpose.
Security: Postbox updates itself, so you don't need to break your head about patches and upgrades. It also includes full fledged anti-phishing to protect you from links. Inbuilt Junk system helps you to tag and block spam email.
Screenshots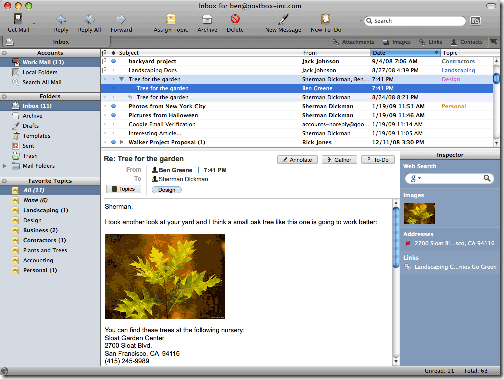 Check out more screenshots.
If you're suffering from Gmail… get hold of Postbox, try it out. You won't go back to the web interface 🙂
Download:
– Download Postboxâ"¢ for Windows (Vista and XP)
– Download Postboxâ"¢ for Mac OS X (Tiger 10.4 and Leopard 10.5)
– Quick Start Guide