Lookeen Desktop Search – How to save time through better search
Everyone creates and shares files and documents, everyone uses email, and everyone struggles to manage the excessive amounts of data flooding into our lives every day. The Findwise Findability Survey 2014 found that time wasted searching and dealing with documents cost organizations more than 20% of their total productivity, and almost $20,000 per employee per year. Lookeen Desktop Search is a great solution for anyone who has ever struggled to find an important email or document, or who has given up on their extensive and time-consuming filing system.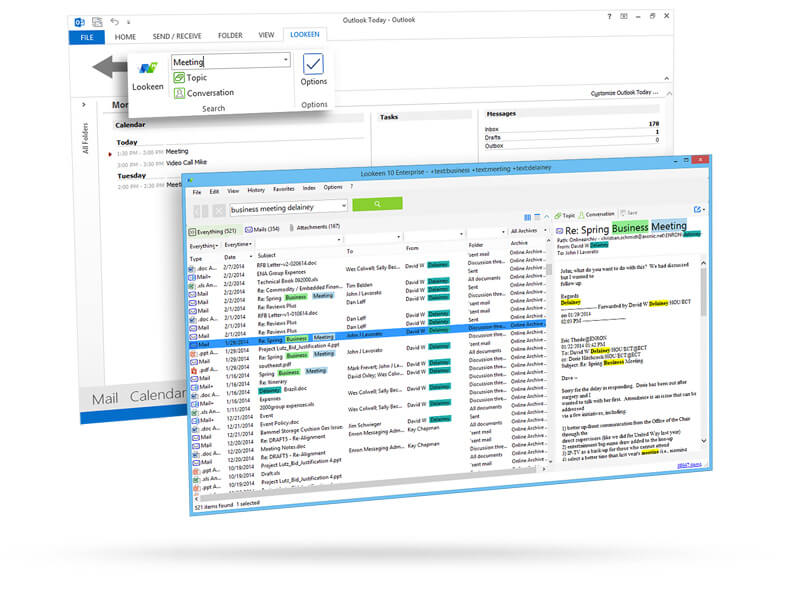 What is Lookeen?
Lookeen is a Windows desktop search tool that makes the task of finding your documents, emails, attachments, appointments and any other file types simple and efficient. Lookeen is a streamlined and simple tool compatible with all Windows desktops and can also be easily integrated into Outlook.
How does it work?
Lookeen builds an index of your computer hard drive, Outlook pst files, any external drives you choose to add and more. The index puts your data quite literally at your fingertips – hit ctrl+ctrl to open Lookeen then start typing. The search-as-you-type function starts bringing up results to a query as soon as the first letter enters the search bar.
More than 25 filter options allow you to narrow down a search quickly and easily: search by date, file type, contact name, file location and more. Lookeen also supports Boolean, proximity and wildcard searches, so even if you can't remember the exact file name or content, or need to search for multiple similarly named documents, you're covered.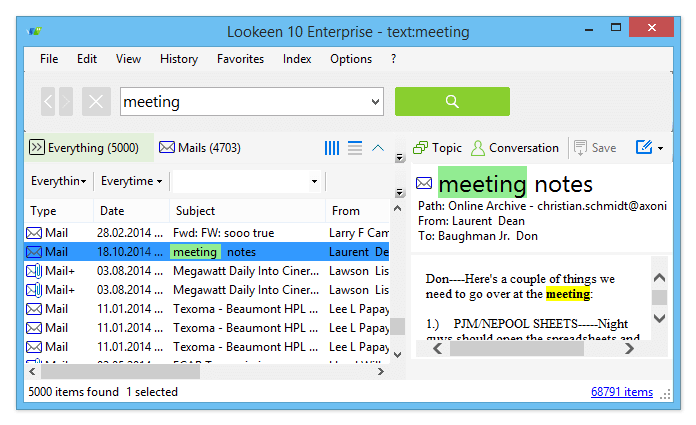 Need to edit a document quickly? You can edit and save changes to documents from within the preview window in Lookeen, without having to find the original document and open it in another program.
Further functions allow you to reply to, forward or categorize emails, move, summarize, edit or delete files and more, right from within Lookeen. Using the Lookeen context menu streamlines your workday by cutting out the middleman. You can get your most important tasks completed without having to leave the program.
Additional Features
Lookeen provides a unified view of all your emails and documents in one clean and simple window.
Find the information you need in seconds, Lookeen uses real-time indexing to make sure you are always up to date.
Intuitive tabs, filters, highlights and one click functions are quick and easy to use.
Save and re-use your favorite searches, and access them quickly with short keys.
Compatible with Windows 10, 8, 7 and Vista, Outlook for Office 365, 2013, 2010, 2007, 2003.
Stop searching and start finding – save hours of your week for more productive tasks.
Downsides?
Lookeen is currently not compatible with Mac OSX.
Find out more
Download Lookeen to try the 14 day free trial for yourself. A single user lifetime license costs just $58, and volume discounts are available for business and enterprise solutions.
More information can be found at www.lookeen.com or follow @Lookeen_Search on Twitter for the latest news and updates.