Learning at the all new Dummies.com
For Dummies is one of the top selling series of books covering tonnes of topics under the sun. It's usually one of the first purchases for people who want to start afresh anything from business, to computers and the Internet, electronics, finance etc.
Now, For Dummies has relaunched Dummies.com to make the tutorials and learning accessible to a computer near you.
So, what's new with Dummies.com?
Integrated search to quickly find topics you want
Tutorials filled with videos and pictures for you to learn quickly and easily
Tips and tricks from Dummies expert editors
Regular contests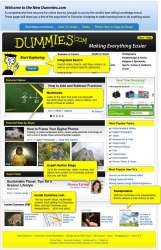 Check out this image from Explore Dummies.com
Check out the comprehensive list of topics. I'm still hunting for their RSS feeds because it would really painful to keep going back to see what's new. If anyone finds it, do let me know.