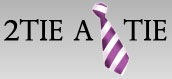 One thing that every guy wants to know (besides how to impress a girl) is how to tie a tie and the site 2tieatie.com hopes to answer this question.
2Tie a Tie gets into the history of various knots and teaches you how to tie them. The tutorials include both pictures and videos, explaining to you in steps on succeeding in getting that perfect knot.

2Tie a Tie has been created by three brothers, who like us wanted to learn how to tie ties and now want to spread the news about it.
Before going through the site, I didn't even know that there were so many different knots that one could do. We struggled to make it and were satisfied when the knot was made. We were more than happy when the knot was made. Once made it was left in pristine condition for reuse.
I've been going through the tutorials and they are beautifully done and well illustrated with pictures that allow you to follow them easily. If you have Windows Media Player, you can check out the videos. e.g. check out the tutorial of tying a windsor knot.
Via: Make Use Of