Keep your Mac running smoothly with CleanGenius – Win a copy here!
A few months back I purchased a MacBook Pro. Over the past few months, I have been gradually familiarising myself with the operating system and the features it has to offer. Like any other computer operating system, the Mac OS X needs regular cleaning, both on the inside and the outside. One extremely powerful utility that allows you to keep your computer running smoothly is CleanGenius.
EaseUS CleanGenius is an all-in-one and easy-to-use Mac maintenance utility to make your Mac OS run faster and perform better. It offers multiple ways to free up the disk space overall along with other useful features to maintain your Mac.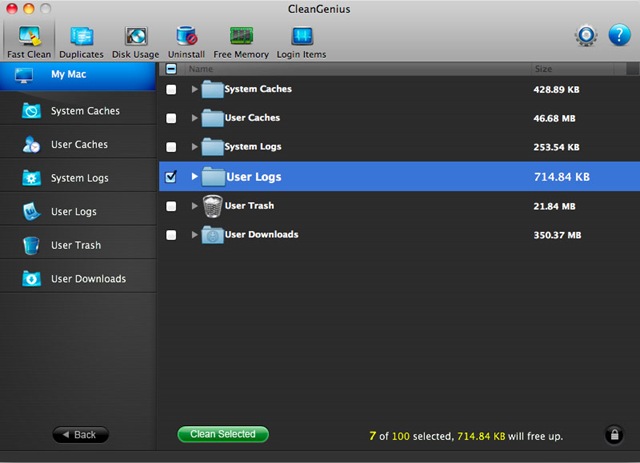 Key Features
Cleaner: CleanGenius allows you to clean several of the caches. You need to be extra careful when doing this, because you can accidently delete all your downloads in the default Downloads folder of your Mac
Duplicates Finder: Delete duplicate files in select folders. Especially useful to clean up your music folders
Disk Usage: See how the various files are spread out on your drive and quickly delete large files
App Uninstaller: Completely remove the unused apps & their related files
Free Memory: Extremely useful when your system is running low on memory
Login items: Check what items auto run on startup
Disk Space monitor: Monitor the disk space on your computer
Disk Ejector: Safely eject your external drives, network drives, local drives, discs and disk images by clicking the Eject Button in the menu
CleanGenius is available as an Appstore App as well as directly from the EaseUS website. The version on the website is 4.0 which includes some key upgrades:
Add animation effects
Classify the system program and application in Uninstall
Drag the files to scan in Duplicates and Disk Usage
Simplify the display in the taskbar and you can choose to display it or not
Simplify and optimize the operation procedures
Optimized new interface
However, v4.0 is available for a $29.95, while the App Store version retails at $9.99.
– Download v4.0 from the website
– Download v3.0 from the App Store
Win a copy of CleanGenius
Over the course of next week, Techtites will be running a giveaway. Up to 5 readers can win a copy of CleanGenius directly from EaseUS. All you need to do is:
Subscribe to our RSS feed and/or like us on Facebook
Share this post on Facebook or Twitter
Make a comment here to tell us what your favourite feature of CleanGenius is. Remember to use your correct email address so that the folks at EaseUS can get in touch with you if you win a copy.
This giveaway ends on 11 May at 11.30pm GMT and I'll be picking the winners using random.org. I will be sharing the details on the winners with EaseUS and the winners should receive their copy directly!