Maybe a clichéd title, but a true one indeed.
Miro is a free application for channels of internet video (also known as 'video podcasts and video rss). Miro is designed to be easy to use and to give you an elegant fullscreen viewing experience.
There are thousands of free internet video channels that you can watch. You'll be able to download all the videos that each channel offers and when new ones are released, Miro will grab them automatically.
Miro is an extremely feature rich program. Some of the top features are:
Complete support for HD Videos
Miro can play MPEG, Quicktime, AVI, H.264, Divx, Windows Media, Flash Video, and almost every other major video format.
Create video playlists, manage your music via a library
Download videos via BitTorrent and then watch them from within Miro itself.
Subscribe to Video RSS feeds and download videos from them
Search and download videos from the YouTube, Yahoo!, Google Video, Blip, and more.
Includes the built-in and web accessible Miro Guide, which is a full-featured web service that is simply the most intuitive, most elegant, and most useful catalog of video RSS feeds anywhere.
The best part. It's open source with a very active community.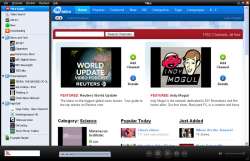 Download Miro for:
– Windows
– Mac OS X
– Ubuntu