If you don't have Internet Explorer installed and are keen to test your site to see how it renders then, IE NetRenderer is a perfect tool for that purpose.
IE NetRenderer allows you see what your site would look like in Internet Explorer 5.5, 6, 7 and now 8 beta.
I've had problems in getting a preview for 8, however 6 and 7 render properly.
Below is the preview of this blog on IE7.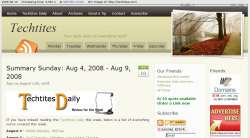 They also offer a IE6-IE7 mixed and a IE6-IE7 difference mode screenshot which you can use to see how different your site would look on the two browsers at the same time.
If you plan on working regularly with IE NetRenderer, you can even download their free toolbar.