How to prevent MSN Spam in Pidgin (Tutorial Thursday)
I use Pidgin as my primary chat client. Pidgin allows me to login to MSN, Yahoo!, Google as well Google Hosted accounts all at once, thus ensuring I don't have too many clients running at the same time to fulfil my chatting needs.
Off late I've been hit by a steady and constant amount of chat spam on my Hotmail ID. This has been rather irritating. Windows Live Messenger allows me to easily prevent this by blocking all non-friends. Here's how you do it in Pidgin:
Access the Privacy dialog in Pidgin by navigating to Tools >Â  Privacy.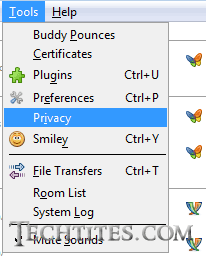 Select your MSN account from the list. Ofcourse, you should have added accounts in Pidgin.
From the second drop down box select "Allow only the users on my buddy list".

This should prevent any of your non-buddies from contacting you. It will prevent the millions of spam messages that you would receive.