Customizing our internet browser with themes is yet another way to give our computers a personal touch. Two browsers I use most of the time, Firefox and Chrome, both come with their own support for great themes. But recently I came across an add-on f
or Firefox which let me quickly change from on theme to the next as well as create my own themes. This is add-on is named AnyColor.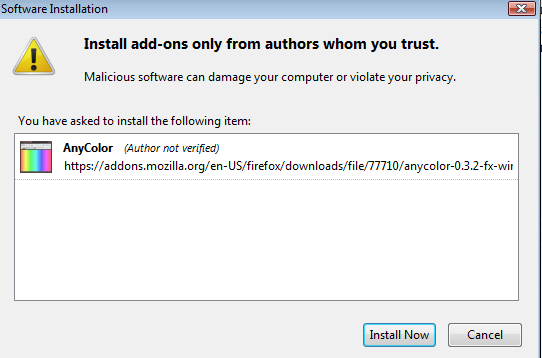 AnyColor is an add-on that changes the look of your Firefox browser. You can easily change the appearance of your browser with just a few clicks. There are many themes you can choose from and it is very easy to customize them or create your own.
After the add-on is installed you will prompted to restart Firefox after which you will be able to view AnyColor's startpage.
On this startpage you can choose a color scheme from the pane on the left. You can even choose to enable certain tweaks by checking the boxes in the left. A button lets you add the add-on's toolbar to Firefox to quickly shift between themes.
The toolbar is located in the Main Menu bar and can be accessed to view the available options.
We can access the add-on's options from here to customize an existing theme or start building an entirely new theme with a new color scheme and a custom background image.
I know I have tried a pretty ugly looking color scheme here but this is just to give you an idea of how you can create your own custom themes by simply playing with the colors.
Having tried out this extension, I found that it integrated into Firefox seamlessly and will be of great use to anybody wanting to be able to customize Firefox better. Try it out and drop off your thoughts in the comments.