How To Minimize FireFox to System Tray
Firefox users seldom move on to the next web browser. Due to its remarkable stability, simple user interface and superior speed, Firefox is one web browser one can't leave behind. But there's another feature of Firefox that keeps the browser fresh and its users interested – add-ons.
Firefox add-ons add great functionality to an already wonderful browser. From locking your text to instantly saving the pictures on a web page, these nifty add-ons can virtually do anything.
Today's thing to explore is also a free Firefox add-on improving Firefox. This add-on is MinimizeToTray Revived.
By installing this add-on you're able to minimize your Firefox windows to a Firefox icon in the system tray.

With MinimizeToTray Revived installed, this minimization to system tray can be achieved by clicking the '-' button, choosing the 'Minimize to Tray' option from the Firefox File menu, or simply pressing the F9 key on your keyboard.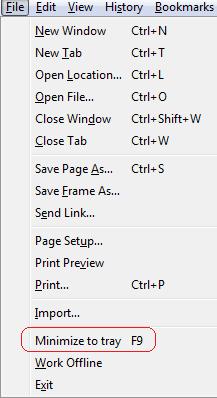 You can also place an icon your Bookmarks bar by right clicking around that area and choosing 'Customize':

Then just drag the 'To tray' button to the Bookmarks bar: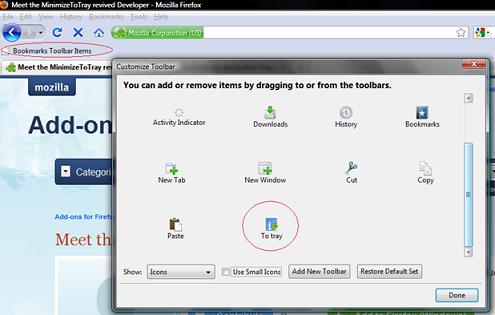 And viola! You'll have a button on your bookmarks bar to instantly minimize your Firefox to tray:
Further options the add-on provides include choosing which actions (minimizing/closing) actually minimizes your browser. You can also select how to reopen the browser windows: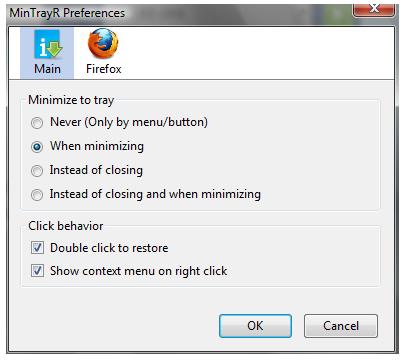 Notice how the preferences have two tabs, Main and Firefox. This is because the add-on is compatible with most other Mozilla related products such as Thunderbird and Songbird. In fact this add-on is inspired from another add-on titled MinimizeToTray (not 'Revived' in the titled). While that add-on is restricted to Firefox, this one works with more Mozilla programs.
MinimizeToTray Revived is yet another great add-on for Firefox and further facilitates Firefox users.