How to Hyperlink a Specific part of a photo
I earlier reviewed a few web services that allows you to add funny effects to your pictures online within a matter of seconds. The process on each website is almost the same. You simply have to upload your picture and choose an effect. That's it, once you're done with that you can easily download or embed your image on blogs or forums.
Recently I've confronted another helpful yet different tool that allows you to split your large images into smaller segments. While doing that it makes sure that the image doesn't lose its quality. It can come in handy by preventing people from stealing your original images.  You can also add links to any specific part of the photo easily. It pretty much works like Facebook "tags" feature.
The process is quiet simple. All you have to do
Upload your image from your PC
Select the number of rows and columns you need
Check options from "Advanced Options" if you like
Choose the image format for this picture and
Number of colors
As soon as you're done with that click "Process" and view the result below.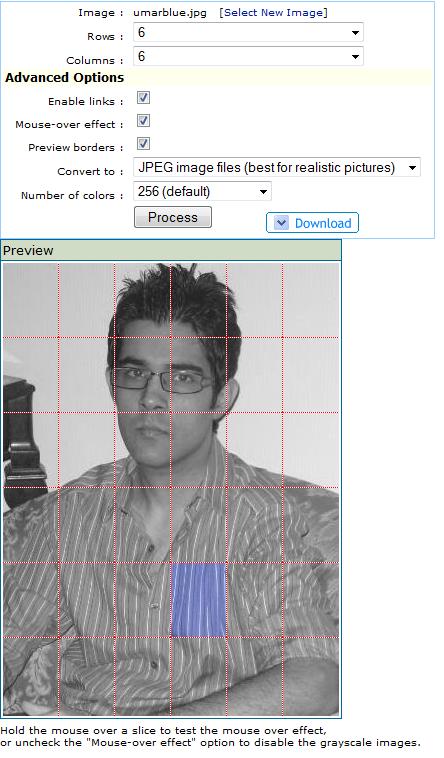 From here simply download the image (it will be available in a zip format). Once you extract the zip file you will be able to see all your images cut down into pieces.
Open the "Sample.html" file and check out the hyperlink on each box you have created. Right click on the page and click "View Source" to see all the small parts of the pages being linked. All you have to do is replace "1×1" , "1×2" etc with your links. Now you're all set to link any part of your photo to your favorite web page.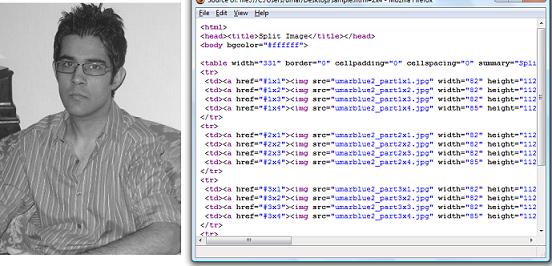 Check out Online Image Splitter.