How To Get Fast Access To Google Services In Chrome
Google is constantly trying to better their products. To enhance the functionality of their internet browser, Chrome, Google have released a number of extensions that complement the browser. Many of these extensions integrate many of Google's existing services into Chrome. For example is Google extension for Gmail which places an icon in the address bar showing the number of unread messages. A similar Google extension exists for Google Reader.
These extensions are quite helpful for a person who is using one of these services. But if somebody is using both services, then installing these extensions can create an unwanted clutter in the address bar.
Recognizing this, a third-party developer has combined the functionality of these extensions, added a few more functions, and created what is called One Number.

One Number is a great Chrome extension which is a must-have for internet users who use multiple Google services. This extension places an icon in the address bar which shows the collective number of unread messages in Gmail, Google Reader, Voice, and Wave. For a breakdown of unread messages (i.e. which service has how many unread messages) all a user has to do is hover the mouse pointer over the icon and a text cloud appears with the details.

An ERROR message either means that you have zero unread messages for that service or you are not using that particular Google service.
Users can also click on the icon and be presented shortcuts to these services in a drop down window.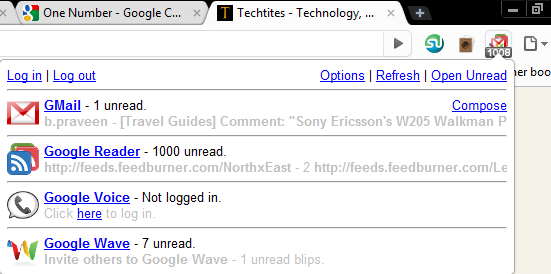 Amongst other adjustments, we can access the extension's options to reduce the number of services checked by One Number or change its color scheme.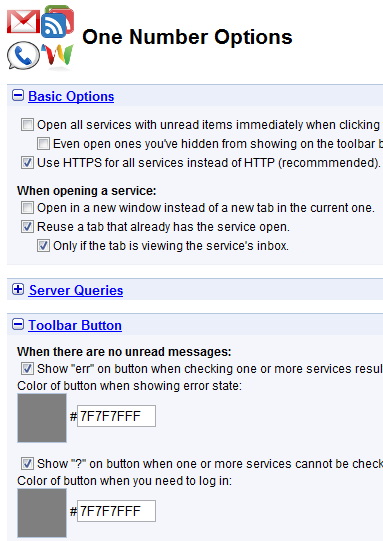 One Number is truly a greatly creative extension that will facilitate countless Google users. Try it out today and personally experience the ease it offers.