How to find updates to your drivers
If you're looking to quickly and easily find updates to your drivers and software then RadarSync is one software that does the job rather efficiently.
First step ofcourse is to download RadarSync and run the installer to get the software installed on your computer. RadarSync offers to install an Internet Explorer toolbar. I chose to skip the same.
Double click on the shortcut on your desktop to launch RadarSync.
Hit Start Now to begin searching for updates for your installed drivers and software.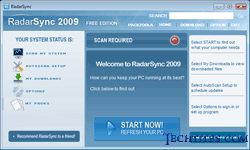 After RadarSync finds updates, it displays them and gives you various options. You can view details about the individual drivers or choose to download them all at once.
RadarSync also allows you to create packs. Packs allow you to save all your software into a pack and then if you format your computer, you can redownload all the software in one shot.
The free version of RadarSync displays advertisements. You can choose to purchase the paid version to remove the ads.