How To Convert PDF Files To Word On Facebook
PDF documents are not designed for editing later. This is why modifying the information within a PDF document is inconvenient. If you have a PDF file that you need to edit, your best bet is to first convert the file into a Word document (DOC files) and then edit the text from within Microsoft Word.
To convert your PDF files into easily editable DOC files, check out a web service called "PDF to Word Facebook Version."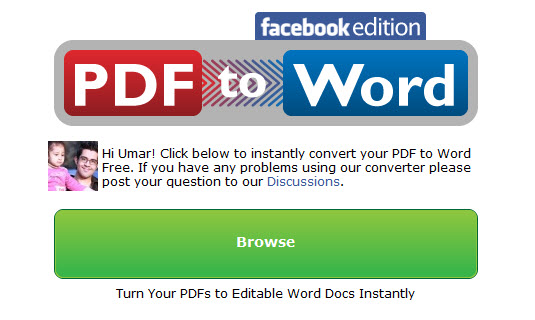 PDF to Word Facebook Version is a simple to use web tool that works through Facebook. Only people with Facebook accounts can start using the service. All you need to do is point the service to the PDF file stored in your computer. The PDF will be uploaded and quickly transformed to its equivalent DOC version.

The DOC version can be quickly downloaded and edited. By using this web tool you will see that it preserves the formatting and layout wherever possible.
Check out "PDF to Word Facebook Version".