How To Change System Fonts In iPhone And iPod
How to change system fonts in iPhone and iPod
==
My guess is that Apple places software restrictions in iPhones and iPods simply so that third-party developers can spend time removing those restrictions, chronicle their achievements online via website and blogs, and users can stay engaged into the iPhone/iPod and the discoveries of features being made on it. It all started with the video recording capability of iPhone 2G; since then third-party developers have constantly been removing various operating system limitations in the iPhone and iPod.
One of the more recent limitation removals is the ability to choose our own font styles in the iPhone and iPod interface. This has been made possible on jailbroken iPhones and iPods via an application called FontSwap. This application is free and can be gotten from Cydia via the BigBoss source.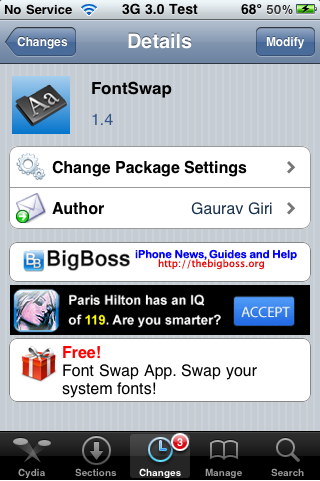 FontSwap presents users with a very friendly interface that lists the current fonts of the operating system and lets users change those to a variety of other fonts.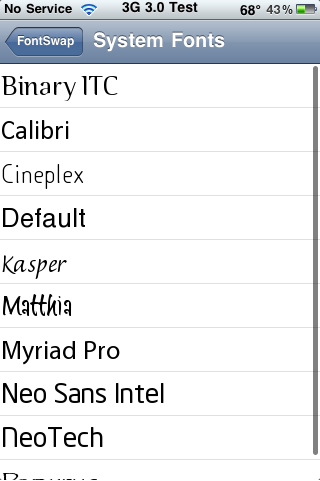 Playing with the application will quickly reveal to any user how useful it can be towards the customization of iPhones and iPods.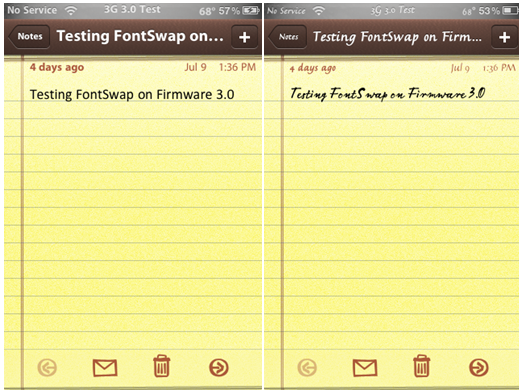 FontSwap users looking for more fonts can always get more by searching for them on Cydia.
A video of FontSwap in action and a tutorial on how to use can be found on YouTube. This is the link to that video.
Some users have experienced minor glitches in the layout of the operating system once we roll back settings to their default using FontSwap; unfortunately however uninstalling the application does not fix the issue. FontSwap's developers should definitely explore this glitch and fix it.