Google Search Made More Musical
Tired of unsuccessfully looking for a song? Know the name of the artist but not the band? Know the band the but not the song title? If yes, then Google is planning to make your life a lot easier.
Google is now adding a wonderful feature to its Search to better help you find the music you like. To do so, Google has teamed up with popular online music providing services. Let's see how this feature will work.
The feature will be incorporated into the Google's web search and will work in the simplest way possible.
Suppose you search for Green Day's album '21st Century Breakdown,' you simply type in [21st century breakdown] in the text field, and click on the Search button: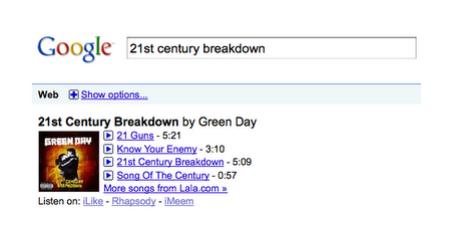 The links provided will include audio previews from most popular music websites. You're also provided with the links to purchase the music you search for.
Now let's assume you've got a song stuck in your head but can't recall the artist/band, the title, or the album's title. All you can remember is that the song lyrics contained 'static silhouette somehow' somewhere in them. Simply search for [static silhouette somehow] and here's what you'll get: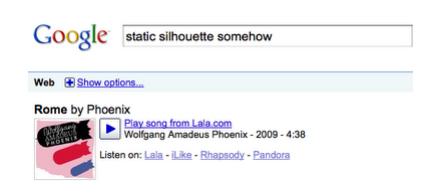 The search will instantly present Phoenix's song Rome which has those lyrics in it. And just like before, you're presented with multiple audio links.
This wonderful music search feature is being worked on by Google to even show you the music you would like but haven't heard yet. For this purpose Google has partnered with Pandora, Imeem and Rhapsody and the partnership will reach fruition in the near future.
Google plans to spread this music search feature across gradually across the United States. Once the search is perfected, it could then be provided to users worldwide. Let's just hope that day comes here really soon.