I like browsers. I have Internet Explorer, Firefox, Opera, Flock, K-Meleon, Safari and Maxthon installed, all of which I use actively for some specific reason or another!
So, when Google released their new browser Google Chrome, I decided to take a look at it.
Being a product from Google, little doubt this browser release has created headlines.
Google Chrome is a browser that combines a minimal design with sophisticated technology to make the web faster, safer, and easier.
Chrome boasts of the following features:
Multi-functional address bar: Similar to Firefox address bar feature, when you type in the address bar of Chrome, it provides a list of suggestions from your history, bookmarks and web.
New Tab Page: Every time you open a new tab, you'll see a visual sampling of your most visited sites, most used search engines, and recently bookmarked pages and closed tabs.
Application Shortcuts: Run applications in Google Chrome directly.
Dynamic Tabs: Drag tabs out of the window or consolidate tabs from different windows into a single one.
Crash Control: Every single tab runs independently in the browser, so if one crashes, then it won't bring the others down.
Incognito: Choose not to save pages in the web history.
Safe Browsing: Get warned if you're visiting a suspect phishing site
Instant Bookmarks: Quickly bookmark a page using the star button
View a detailed list of features along with videos.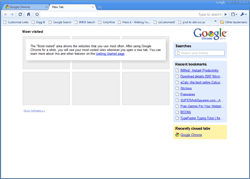 So far, the browser looks good. It is also extremely light on system resources. I'll be using it more often in the next few days to come.
They need to allow addon support. I really hate it when I can't get Roboform running on the browser or have some kind of ad blocking addon.