While I was checking my Gmail today I came across a new button.
Earlier, these options were place under the title of "Show Details". These have all been moved under the Reply button as you can see above.
Clicking "Show Details" now gives you a small prompt telling you where to find it now: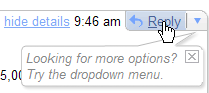 Since this change has been made all across Gmail, even those using the Hosted Email solution like I am for my sites has that.
On a personal note, this does improve functionality a bit, however, the button doesn't seem to blend in with the rest of the page? Or are they planning a new look to Gmail?
Update: The What's New page now lists the five new features that have been added.