There is a wealth of music available on the internet. While internet radio has been around forever, it is only recently that I tried it out. The problem with internet radio is that you need a fast enough (and unmetered) connection to listen to the music, which isn't a luxury we have in India.
A good alternative in this case is to record the music from the radio station. AudialsOne is one powerful software that allows you to record music from radio stations as a basic option and a lot more as an advanced option.
The software is so feature rich, that one post cannot do justice on it. I'll try to do some justice to the software in this review by covering some of the main features.
AudialsOne is actually three software rolled into one, viz. Radiotracker 6, Tunebite and Mediaraptor.
Radiotracker 6 is the can record from every radio station on the planet and then convert those files into every format for every playback device.
Tunebite is an universal converter which is able to handle over 100 audio and video file formats, with or without DRM copy protection. Tunebite also lets your record movies and videos online from free movie sites, web portals and online movie stores in HD and lets you save them in the file format you need.
Mediaraptor is the modern solution to legally get all the free music from social radio stations your hard drive can handle. Mediaraptor is also an universal web recorder, because every video and film from websites you've visited are recorded automatically and converted into every desired file format.
The first time you open the software you may get a little overwhelmed. But, while you settle in, you'll notice six tabs which allow you to access all the features of the software.
The Radio Tab
The power of AudialsOne begins with the Radio tab, which is one of the two features that you will use the most.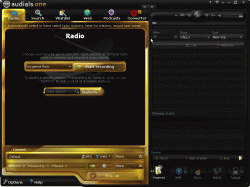 The radio tab is easy to use. You can perform a quick search for a radio station, or manually go through the list by hitting the stations button.
You'll be presented by a genre-sorted list of radio stations. Once you double-click on a radio station, it will be added to your Favorites list and from there you can start listening to the radio station, or choose to record it.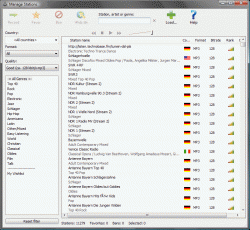 You have the option of recording the music one song at a time or you can record the entire station. Beware however, everything you record requires space on this hard disk and unless you have a few terabyte hard disks lying around, you may soon run out of space.
The Search Tab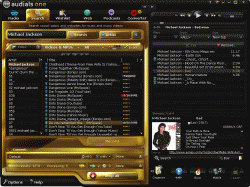 This tab allows you to search for music by entering the article or the title. You can select the song you want and it will record the song. You can also get hold of the more powerful Search & Record Plugin to improve the search results.
The other tabs
The wish list
AudialsOne now allows you to add some songs to your wishlist. Once the songs have been added to the wishlist, the software will search through tens of thousands of songs to find those that match your wishlist. You can either create your own wishlist, or you can download one from the Wishlist community.
The web tab
This is one that I found is still being populated. You can check in the Audio / Video forum for links to websites from where you can capture audio and video. Sample sites are hulu.com, www.tv.com, freemoviescinema.com and joost.com.
Podcasts
This is one feature I haven't used much and don't think I will be either because of the limits of my internet connection. A podcast is not much different from a radio station. You'll be able to add a whole set of podcasts and then listen to them whenever something new is posted on it.
Converter
This tab allows you to browse for audio/videos on your computer and convert this from one format to another. The supported file-formats are in the screenshot below:

It can also help you remove the protection from DRM protected audio files. You can also convert audiobooks and even record your entire screen. Maybe, I'll try to churn out a few video-posts.
Techtites readers get a 20% discount
AudialsOne freeware has one limitation from the complete software. You'll receive 40 songs for free to test out the program. However, you can listen to the radio stations for free and convert your music without restriction.
However, if you're keen to try out the Platinum version of the software, it retails for only $79.90. But, you can get it for a 20% discount by entering the coupon code: AudialsOne4.
– Download AudialsOne freeware
– Buy AudialsOne Platinum at a 20% discount