Get All Adobe Air Applications In One Place
Adobe Air is an applications platform. Since it is cross-platform it works on Windows, Mac, and Linux running computers. If you are looking for a go-to place for Adobe Air applications, then look no further: the rightly named "Adobe Air Apps" will serve perfectly.
Adobe Air Apps is a great website that lists many applications based on Adobe Air. With each application you get a screenshot of the app running, a small description of the app's function, a link to the app's original webpage, and a link to download the app. You can also leave a comment on the app's "Adobe Air Apps" page where you can give your feedback regarding the app.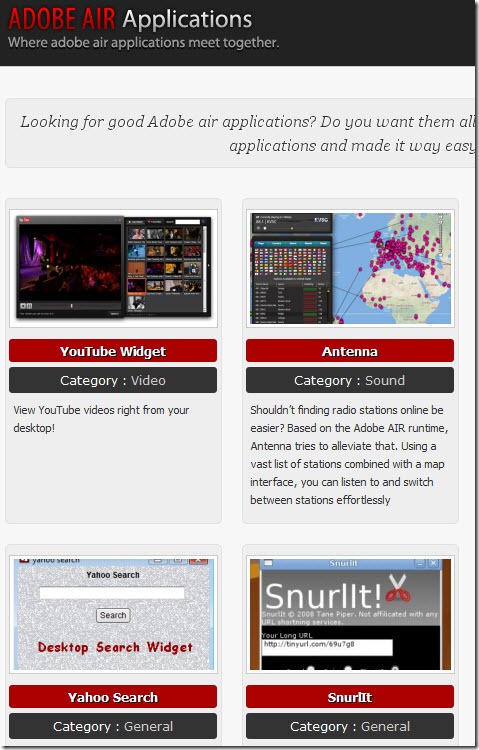 Also on each app's page are located links to similar that you might be interested in.

You can look for useful applications by browsing through the categories they are placed in. These categories cover social networking, multimedia, time tracking, e-shopping, games, and many other areas. Through the categories side-pane, you can access a particular category and its subcategory.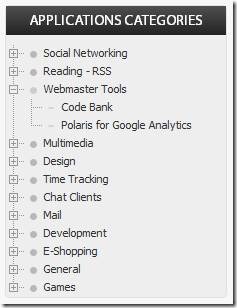 In this side-pane when you expand a category or subcategory, all the apps listed under it are shown. This way you do not have to spend time browsing through another webpage – you can select an app right from the side-pane.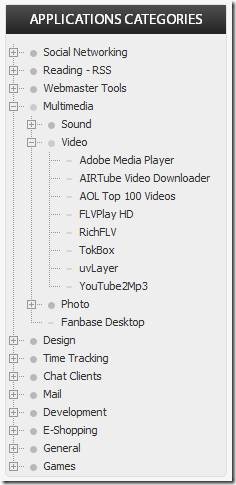 If you already know which app you are looking for, you can execute a keywords search and find your desired Adobe Air application.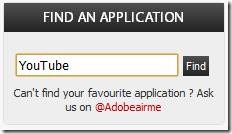 Developers can submit an Adobe Air app of their own, if they want. The app can be your own or some other app you think worthy of being included on the site. Apps should be hosted on the someplace online because to submit an app, you will need to provide its URL.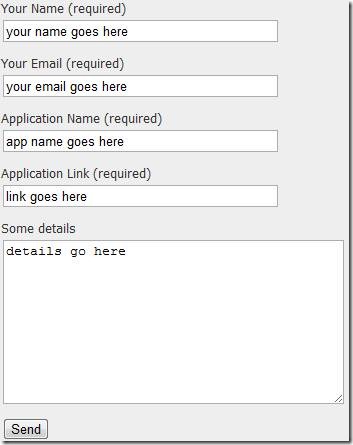 Overall, "Adobe Air Apps" is a great collection of applications based on Adobe Air. Users of all computer operating systems should check out the site; you will surely find many helpful tools.