Fun Friday: McDonald's Video Game
Making money in a corporation like McDonald's is not simple at all! Behind every sandwich there is a complex process you must learn to manage: from the creation of pastures to the slaughter, from the restaurant management to the branding. You'll discover all the dirty secrets that made us one of the biggest company of the world.
Thus runs the description of the McDonald's Video Game.
The McDonald's game allows you to control four sections of the organization of McDonald's. The first being the actual agricultural section, the second is the feedlot, third is the Fast Food restaurant and finally the Headquarters. You'll need to quickly switch between views to be successful at the game, as you can see, well McD ran into bankruptcy the first time I played it.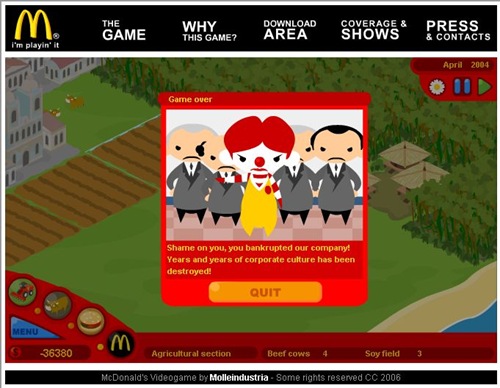 Overall, this is an interesting experience not very different from many games similar to it. You can also download the game to your PC and MAC and play it without an internet connection.
So, how much money did you make the company?
Stand-alone version for PC exe zip 1934 Kb
Stand-alone version for Mac hqx 3697 Kb
Online version for Flash enabled browsers swf 1402 Kb