A few years ago, I faced a major problem with uploading and downloading files via FTP. My internet connection blocked a lot of ports, FTP among them and switching ISPs wasn't an option.
It was an extremely frustrating situation, until I stumbled upon net2ftp.
net2ftp is a web based FTP client with features that rival several desktop based FTP clients.
Navigate the FTP server
Upload files
Download files individually or via ZIP files
Zip/Unzip files
Install software
Copy, move and delete
Copy or move to a 2nd FTP server
Rename and chmod
View code with syntax highlighting
Plain text editor
HTML editors
Code editor
Search for words or phrases
Calculate size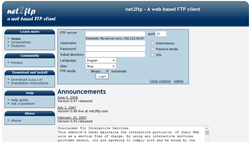 And, the best part about net2ftp is that you can download and install it on your own servers. Installing this on your own servers ensures that you can change the upload / download limits, the execution time of the php scripts.
This is something I have done personally. I have net2ftp installed on my own VPS and pushed the limits of the files to a high level allowing me to upload big files and unzip them.
Have you tried net2ftp? Do you have it installed on your own server or do you use net2ftp.com?