Fring Updates Its Smartphone App
There is a good chance that if you own an older generation iPhone, you took advantage of Fring's services. In case you are unfamiliar with it, Fring is a very popular VoIP client that provides its services for free. The Fring application for older phones lets users conduct 1-way video calls: a person uses his camera to show himself while the person on the other end watches on his phone's screen.
But with iPhone now equipped with a brilliant dual camera feature, Fring quickly worked on the task of making use of the front camera. The result is Fring's latest app that supports 2-way video chat not only on iPhone 4 but also on Android and Nokia phones.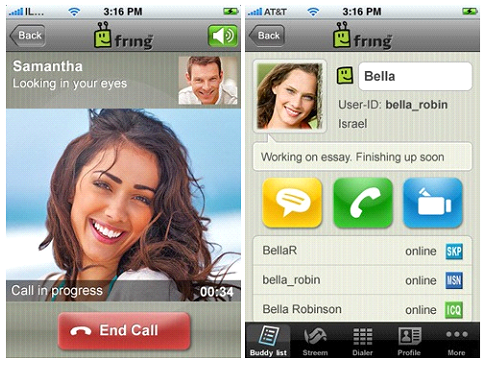 Fring's update to its video, voice, and messaging application will be greatly welcomed by smartphone owners. Since the app supports multiple phones, people will be able to have 2-way video conferences between an iPhone 4 and Nokia, Nokia and Android, and iPhone 4 and Android. In this regard, Fring is clearly superior to iPhone 4's native FaceTime which facilitates video calls from one iPhone 4 to another iPhone 4 only.
Another way Fring's video calling is better is that it can be executed over 3G – Wi-Fi is not the only requirement. But FaceTime only works over Wi-Fi.
From the looks of it, Fring has just given iPhone 4 owners 2 big reasons to abandon FaceTime and choose Fring as their default video calling app.