There are so many social networking platforms out there that I don't think anyone has an exact count. As bloggers, we try to make our presence felt on as many as possible. Currently, without doubt, Facebook and Twitter are the two extremely popular social networking sites. While Facebook has a lot more to offer than Twitter, Twitter's popularity is second to none in its market.
You can improve your connectivity with your Facebook friends by finding them and following them on Twitter. I'm pretty sure they will follow you back. While you can go about manually hunting down their Twitter ids, Twabble's fb140 application makes life easy for you.
In three steps you're good to go.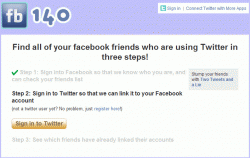 Sign into Facebook so that we know who you are, and can check your friends list
Sign in to Twitter so that we can link it to your Facebook account
Select which of your friends you want to follow
And, if you haven't been following me yet, I'm present as @ajaydsouza and @Techtites on Twitter and ajaydsouza on Facebook. And if you haven't already please do become a fan of Techtites on FB. If you're adding me on Facebook, do drop in a line so I know who you are.
Thanks to @ronakshah for the tip.