The first release candidate of FeedDemon is out today and the major changes are:
Added: Embedded ads via The Deck
Added: Cleanup Wizard and Panic Button can now be limited to specific folders
Added: Separate confirmation before removing a feed, watch or clippings folder that contains tagged items
Changed: Simplified Cleanup Wizard (now a simple dialog instead of a wizard)
Changed: Cleanup Wizard now defaults to not removing tagged items
Fixed: Embedded video overlaps fixed header in newspaper (only partially fixed in previous versions)
Fixed: "Share" icon fails when synching with NGES (150640)
Fixed: Clicking the previously selected feed/folder doesn't refresh the newspaper
In a post on his blog, Nick talks about the decision to make this move.
I purchased FeedDemon two years back and last year the software was released for free. The ad is rather non-obtrusive which is a good thing. I wonder how much will Newsgator make out of these ads. I for one don't mind the ads simply because this is the best feed software in my opinion.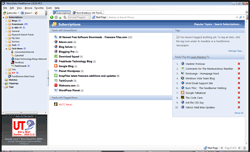 (Visited 75 times, 1 visits today)